My trip to toronto was a fated trip. First fated moment was when I got onto the metro, to go to the bus station and a girl walks in and sits right next go me reading Breaking Dawn! The train was empty! That freaked me out! Second fated moment was sleeping on the bus, and suddenly the bus stops abruptly right in front of a store called chasse et peche-the same name of the resto Kristen and Rob ate at while in Montreal. Third fated moment I wake up again and 3 navy blue doge caravans ride right pass the bus-the same version and color of the cars the actors drove in Squamish,BC. I get to my hotel and my floor number is number 8! My lucky number is 8! I'm schedule to leave Toronto on the 8th. As always on my second day to twilight trips I usually end up seeing Rob and Kristen. And that's exactly what happened:
It all started on Wednesday around 2:30, we were at one of the sets of Cosmopolis. One of the workers on the set tells us that they won't be filming today. We decided to go to an undisclosed area where were two random girls came up to us to tells us, they saw Rob leave in his car to go to set. We didn't believe them, but decided to go back to the set we found the morning. My friend checks on twitter and sees a tweet from a girl saying she's on the set of Cosmopolis. She responds( thank you where ever you are!) and tells us the location. We arrived there and then Rob arrives an hour and 30 minutes later. We wait for the scene to finish, and stand by his trailer, along with maybe 15 other girls. My friend calls him over to ask for an autograph. She gets her cd signed, and then he comes to me. I have my limited addition red covers twilight saga breaking dawn book, he then ask me who am I signing this to? I said Mallory. Before I could spell it out he writes it, Mallory not mallorie like everyone usually spells it! He signs more autographs then a twimom says he friends bday is today can she get a pic. He takes the pic, turns around and my friend (god bless her soul) says can we please have a group pic. Rob hugs both of us on the shoulder, so naturally I hug him across his lower back. Dean grabs my hand and says "no touching!" and he holds my friends hand during the pic too. After that I literally don't remember how I got back to my hotel! @ 4:20 on july 7 2011 I met Robert Pattinson, after being only 2 days in Toronto-and 118days after I saw him & kstew in Vancouver for the first time. It was fate!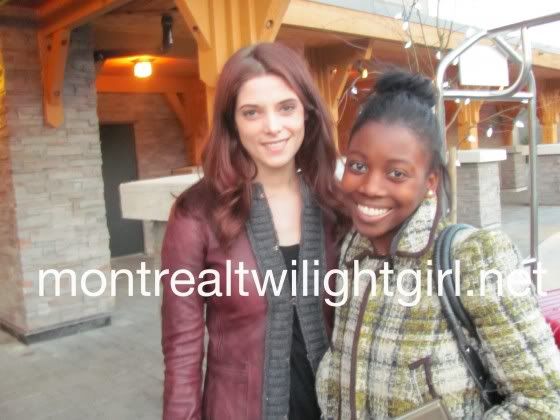 I met Ashley after literally seeing Peter F. & Wyck G. 5 minutes prior. She told us she just got off her plane. I then told her she has nice shoes! Should have said more but it was once again too intense!
Check out her other fan encounters here: