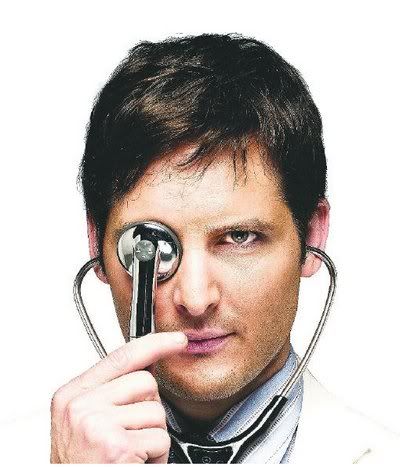 For fans of the "Twilight" series, it's one of life's great mysteries: Why is there no Team Carlisle?
Edward and Jacob (or Jacob and Edward, if that's how you prefer it) seem to attract all the screaming, red-faced, teary-eyed fans (and their screaming, red-faced, teary-eyed moms) who pledge their love and allegiance for all eternity.
Amid that chaos, it's easy to forget that Dr. Carlisle Cullen – the blond patriarch of the Cullen clan and dreamy-eyed proponent of vegetarian vampirism – is just as scream-worthy. And it doesn't hurt that, on the big screen, Carlisle is played by Peter Facinelli, an actor of the tall, dark and handsome variety who can easily hold his own alongside Robert Pattinson's jaw line and Taylor Lautner's biceps.
"Whenever I talk with fans who know me as Carlisle, it is a really humbling experience," Facinelli says. "I've had fans come up to me and they just don't speak, which always surprises me. I want to tell them, 'Don't be shy. I'm just like you. I'm a fan of these books – and this character – just as much as you are.' "
Facinelli is scheduled to make an appearance Saturday at Jefferson Pointe as part of a fundraiser for Alex's Lemonade Stand Foundation (www.alexslemonade.org), which raises money for childhood cancer research via home lemonade stands. It's named for the originator of the idea, Alex Scott, who died from cancer at 8 years old.
Facinelli, who also stars on the Showtime series "Nurse Jackie," has worked with the organization for the past year, squeezing in autograph fundraisers whenever his schedule allows, he says.
"I want to spread awareness," Facinelli says. "When I learned about the organization, it really moved me that Alex's parents were able to rise above their grief and help other people. So with these autograph signings – the fans seem to have a good time, the organization benefits and everyone wins."
Much of the success of Facinelli's autograph tours is because of fans of the "Twilight" saga, he says, which begins to wind down this fall with the release of the first part of "Breaking Dawn," the final installment of the series.
After so many years working with the same group of actors, Facinelli says the end is bittersweet.
"For me, I can't believe it's gone so quickly," he says. "It feels like yesterday we were doing the first one. I love the cast. They've become family to me, so it saddens me that I won't be on set with all of them anymore. We have a great rapport with each other. But, after making five films, it's also time to move on."
As the father of three daughters with wife Jennie Garth – all of them avid "Twilight" followers – Facinelli counts himself as a "major fan" of both the books and the movies and is looking forward to seeing the two-part film adaptation of "Breaking Dawn." He's especially interested in how director Bill Condon constructs the honeymoon scene between Bella and Edward and the final battle between the Cullens and The Volturi.
"I'm one of those fans waiting to see exactly how they handle everything," he says. "I haven't seen the movies and I wasn't there for all of the scenes, so I'm really excited. I get to experience it just like all of the other fans do. Because, really, that's what I am."
SOURCE