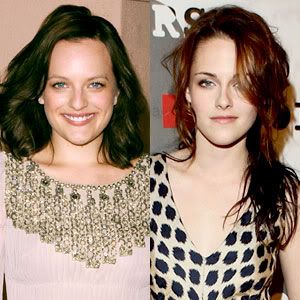 Amy Adams may have been slightly intimidated by Kristen Stewart's young age when they were making On The Road.
So did their other costar, Mad Men's Elisabeth Moss, feel the same way about Ms. Stewart?
"She's super nice," Moss told me about K.Stew at this week's Hollywood Foreign Press Association's annual grant-giving luncheon. "She's really so normal and so nice. I was probably more intimidated by Amy Adams because she's like my favorite actress in the world. So everybody was just intimidated by everybody else."
Moss insists she doesn't feel too much pressure being a part of the movie adaptation of Jack Keoruac's Beat Generation classic. "The great thing is it's not on me," she said. "You know what I mean? It's not my responsibility but who they chose to adapt it and who they chose to be in it and who they chose to direct."
Directed by Walter Salles, the indie also stars Garrett Hedlund (swoon!), Sam Riley and Kirsten Dunst, among many others.
No surprise, but Moss is psyched to see Stewart as Snow White. "I think it's perfect," she gushed. "It's a great idea. I think she's going to be great."
SOURCE